WEDDING ORDER OF SERVICE
---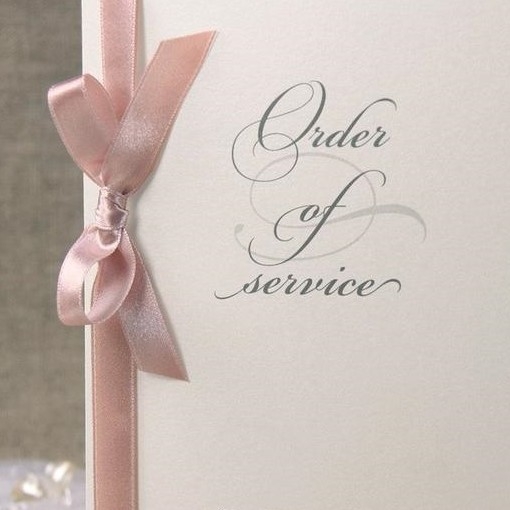 What is a Wedding Order of Service?
Your Wedding Order of Service is a way of guiding your guests through the ceremony, a timetable of what is happening and when.
At most traditional wedding ceremonies the order of service is printed in booklet form for each guest. May couples match the design of this booklet to the rest of their wedding stationery.

Do I need an Order of Service?
For those having a micro wedding or a short ceremony or an eco-conscious affair or are on a tight budget, you may be hesitant to print a booklet style order of service. However there are other ways to present your order of service that can be adapted to suit.
For example, many couples opt for one big sign with everything printed on it and placed in a prominent position for everyone to see, or have a printed pull up banner with all the details printed on it.


What should I include?
It is customary to include your names, the wedding date and the location of the venue. For each part of the ceremony you normally include the time, what is happening, who is performing it and what music might be being played.
For example: 10.30 am Aisle Entrance.....music Perfect by Ed Sheeran.
For a church wedding it is usual to include the words to any hymns which guests might be required to sing along to.
You may also wish to include the names of the Bridal Party and any Family Members.
At the end of the order of service you might also want to say a special thank you to those who helped you organise the wedding, or note that you want an Unplugged ceremony. (No photos of wedding ceremony to appear on social media during the ceremony).

www.weddingdjfife.co.ukemail: info@weddingdjfife.co.uk
tel: 01592774683 mob: 07775261740
---